The Federal Bureau of Investigation (FBI) has deployed multiple operations against business email compromise (BEC) schemes, employed by threat actors primarily to divert legitimate bank transfers made between companies. The most recent of these special tasks was identified as Operation Eagle Sweep, deployed over three months and which led to the arrest of a total of 65 BEC suspects in the U.S. and foreign countries such as Nigeria, South Africa and Canada.
This threat remains a severe risk to public and private organizations globally. According to the FBI's Internet Crime Complaint Center (IC3), during 2021 this variant of electronic fraud generated losses of more than $2.4 billion USD worldwide.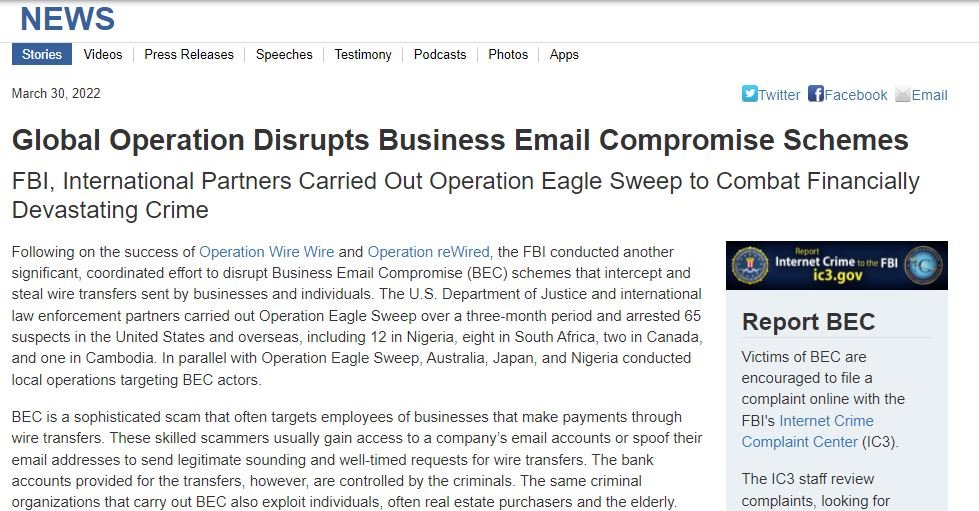 Bryan Vorndran, deputy director of the FBI's Cyber Division, says, "We work with our domestic and international partners to disrupt and dismantle criminal organizations, stop the victimization of U.S. citizens and businesses, and impose real consequences against cybercriminals." Vorndran attributes the success of this operation to the global reach and close collaboration between law enforcement in the countries involved.
Started in September 2021, Operation Eagle Sweep has always focused on BEC scam groups, linked to about 500 attacks a year in the U.S. alone. Among the most prominent arrests are individuals such as:
Oluwasegun Baiyewu and Leo Omorogieva Eghaghe, originally from Nigeria and arrested by their country's Economic and Financial Crimes Commission. These individuals allegedly orchestrated the attack on a Puerto Rico-based energy firm
Ashley Crespo, David Alvarado, Wendy Elizabeth Ramos Lopez, Dayana Zaila Ramos, Alvaro Umanzor, Luis Lopez and Jamal Moore, Texas residents and accused of orchestrating a BEC operation and money laundering for nearly $1 million USD
Bright Osaghni and Osatohanmwen Oriakhi, residents of Canada. Both were arrested by the Toronto Police Service in connection with a BEC scam and a check fraud scheme that affected hundreds of victims in the United States and Canada, generating losses of up to $16 million USD.
Operation Eagle Sweep was funded and coordinated by the FBI, and is expected to serve as a model of international cooperation against specific threats that endanger the financial stability of thousands of organizations around the world.
To learn more about information security risks, malware variants, vulnerabilities and information technologies, feel free to access the International Institute of Cyber Security (IICS) websites.
The post What exactly is the FBI's Operation Eagle Sweep? Combating financially devastating cybercrime appeared first on Cyber Security News | Exploit One | Hacking News.